You can recognize a touring bike by its retro look, drop handlebars, and pannier rack mounts on the rear and front forks. As its name entails, these bikes are precisely made to grab everything you can carry, load them up and go on a full-scale adventure. I mean, sure, you can do this even with your hardtail bike, but a machine that is well-suited to be durable and ideal for long-day expeditions will make your life a lot easier.
But apart from featuring two wheels and a frame, what is it that makes a certain bike specifically up to snuff with touring and traveling long distances? We'll cover this and other basic properties of a touring bike below, hoping to make it easier for you to navigate through different variations and learn everything you need to know about it.
What Is a Touring Bike?
A touring bike is a type of bike that is well-suited for traveling long distances and carrying a copious amount of supporting racks. Built with a strong frame, knobby tires, and increased wheelbase, touring bikes are the pickup trucks of the two-wheeled machines world.
While at first sight, they may look just like road bikes, there are some stand out characteristics that makes them distinguishable from other bike types:
Knobby tires
Touring bikes usually feature thick tires ranging from 25mm to 38mm wide. While not specifically designed for off-road riding, touring bike tires offer protection against flats and can stand firm against potholes, sharp objects and rough terrain in general.
Strong frame
When swinging into high gears during descends, a normal fully loaded bike might move unsteadily from side to side if it doesn't have a stiff frame. Touring bikes have the advantage of being durable and stable on the frame and so can withstand a lot of pressure. Because they have a lot of mounting racks and bottle cages, the frame is made of strong materials such as heavy steel or titanium. Additionally, the lower bottom bracket helps to balance gravity adding comfort and making it easier to reach fenders and bottle cages.
Upright position
Because long time in the saddle is very common, touring bikes feature a more upright body position making it more comfortable to change hand positions on the handlebars while also relaxing your back and neck.
Low gears
Touring bikes bear some similarities to mountain bikes in the sense that they have low gears to take the pain out of climbing hills while going full cargo.
Touring Bike Geometry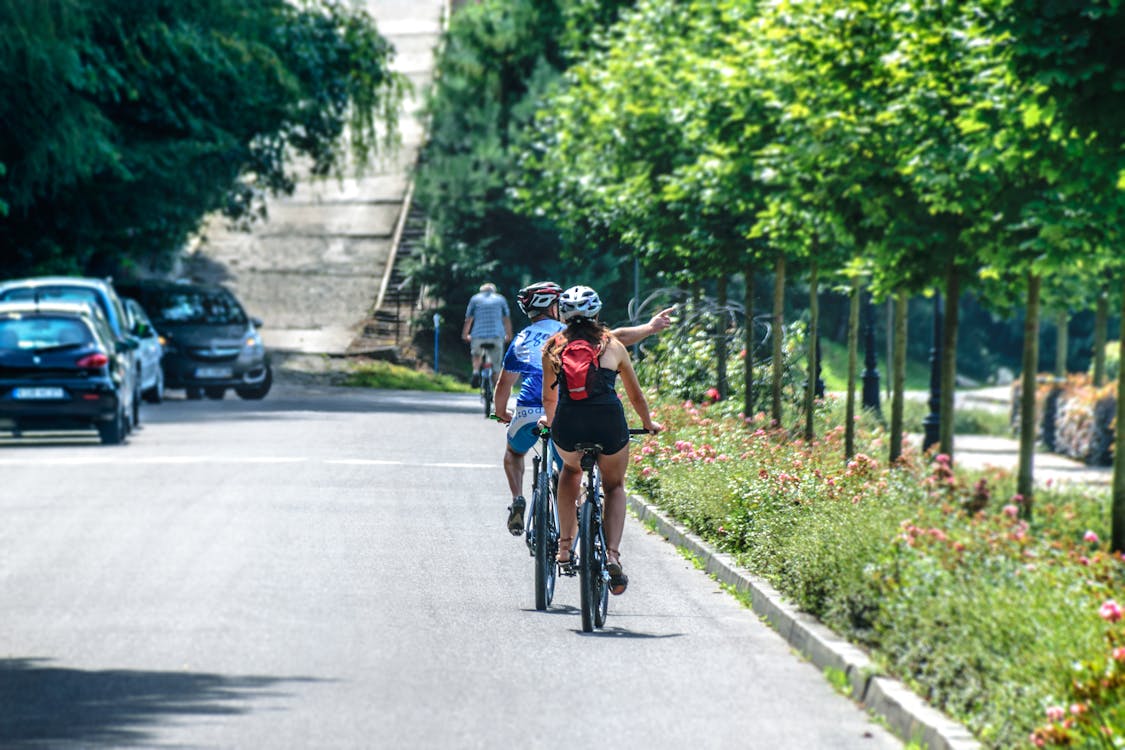 Touring bike geometry is devised for long hours spent in the saddle. As such, it plays a crucial role in how the bike handles the distribution of weight and how the bike fits and feels in general. As an avid traveler, you'd probably want a bike that runs smoothly. You want to enjoy the scenery whiz by and ride untroubled without having to worry about keeping your bike steady. To accomplish this, you'll notice that most touring bikes have the following geometry features:
Longer wheelbase and chainstay. A long wheelbase contributes to an easier steering and is more comfortable on your body. The longer chainstay offers the extra length and room to ensure that the added racks and panniers won't get in the way and interfere with your pedal stroke.
Longer headtube. Touring bikes feature a very large headtube to give you an easier reach for the handlebars and offer you a more upright body position. The upright posture is ideal for long journeys and that's what touring bikes are all about. The aerodynamic position with a fully loaded bike would make riding much more difficult and less enjoyable.
Shorter top tube (reach). Reach covers the distance between the bottom bracket and the headtube. Most touring bikes have a shorter top tube giving you more slack and relaxed position.
Types of Touring Bikes
There are many types of touring bikes each designed with a specific characteristic in mind. Some of these bikes are made for short distance travelling, others for fast rides and racing or off-road touring. Let's see what characterizes them and which one would fit you the most.
Road Touring
Bikes in road touring category are designed for paved roads; they have the same basic diamond shape as standard bikes but feature a slightly more upright position for a comfortable and stable ride. In contrast to classic tour bikes, road touring bikes have a smaller wheel with additional strength and lighter weight. Many also come with ready-made attachment points for mounting front and rear racks.
Gravel Touring
Gravel touring bikes are a cross between off-road and road bikes. Featuring either light steel frames or carbon and drop bars, they can be used both for going at high speeds and riding for hours/days. They are very versatile and can be quite efficient on a variety of terrains and surfaces, loaded or unloaded.
Touring Commuter
Many of these bikes come with typical features that you'd expect to see on a normal touring bike but they aren't built to go fast and haul heavy cargo. These bikes are best for riding on short trips around your neighborhood, shopping, and commuting to work. Sure, you can ride short trips with almost any commuter, but these bikes come with mudguards to keep you clean on rainy days.
Off-road Touring
Off-road touring bikes usually have 29" mountain bike like wheels and low gearing that makes them better suited for when the roads get rough and dirty. They also feature front suspension forks, flat bars, and rack mounts. They are relatively simple and bombproof, allowing you to travel longer distances over multiple days. Scratch that, they allow you to travel for weeks and even months exploring further than ever before. While of course, you can ride an off-road touring bike on the tarmac as well, it is dirty tracks and rocky terrains where they really excel.
Touring by bike isn't about reaching high speeds, it's more about exploration and time spent on the saddle over long-distance journeys. To do this, you need a bike that rides comfortably for hours non-stop while also being able to carry gear. If you love multi-day adventures, a touring bike might be the best choice you'll ever make.